Dell D3218HN Review - D-Series LED FHD Monitor with IPS Panel
If you have an old console and want a large monitor to play your favorite titles, Dell D3218HN falls right in with what you want. This is an FHD monitor with no bells and whistles for competitive gaming. It is better as a multimedia monitor and a casual gaming monitor. The lack of adaptive refresh technologies means it won't be a blast with the latest games. But for the price, it is an excellent value if you are tight on cash.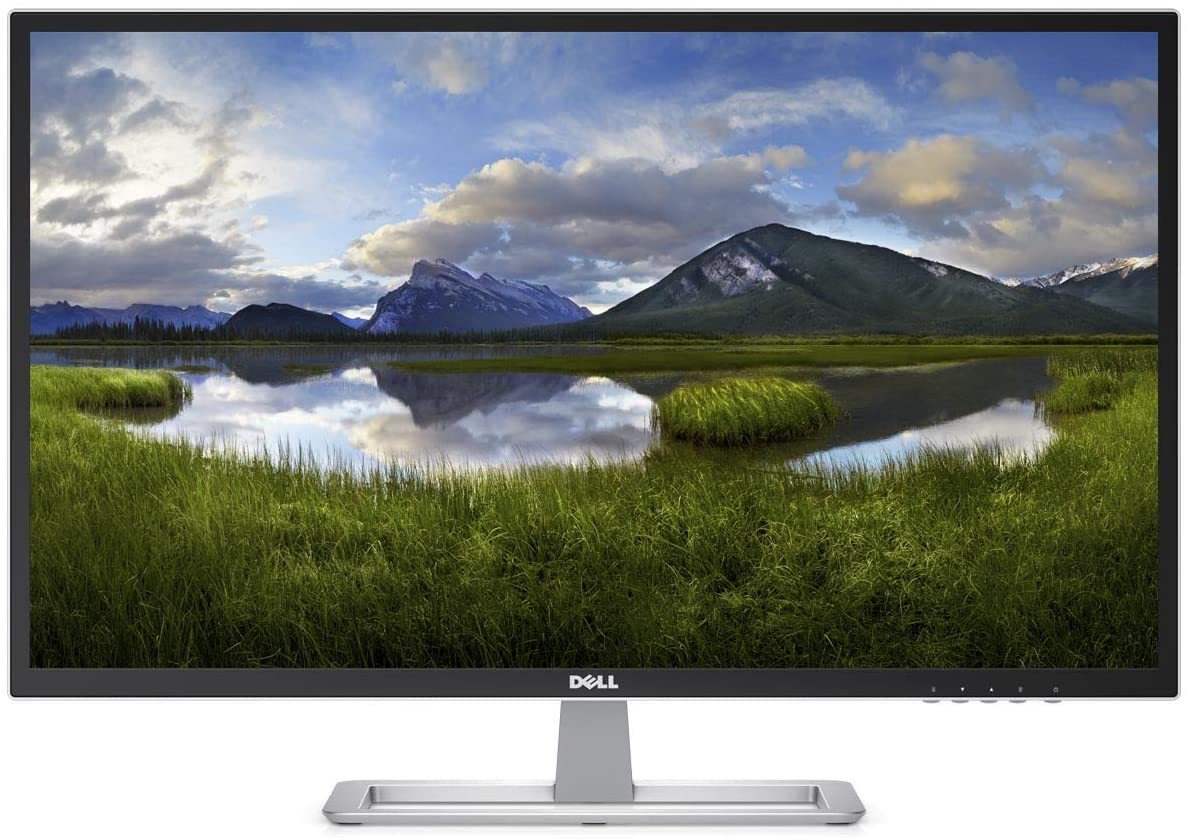 Pros
Large 32-inch screen

IPS panel with wide viewing angles

Low input lag

Decent 8ms response time

Plays most games on 60Hz refresh rate
Cons
Average picture performance

Does not support extensive adjustability

Lacks inbuilt speakers
Design Features
The simplistic and minimalistic design of this monitor is what will catch your eye. It doesn't scream for attention, but it doesn't look bad either. With a black bezel on the front which is the norm and a silver stand, Dell D3218HN isn't going to draw attention to itself.
The rear and the sides of the monitor is probably where we have a lively design as it has white sides and the back is white too. It is exciting to see it veer from what we are used to in monitors in its price range.
Back to the stand, we find that Dell has done a pretty darn job in ensuring the monitor will not wobble. Whether you are typing superfast on your desk or your brush against the monitor when walking, it is not going to move an inch. And because it does not move, it also means that the ergonomics are limited.
This monitor can only be tilted from -10 to 5 degrees which is very limiting. You cannot do other jobs like edit your pictures or perform stuff that needs pivoting the machine. Thankfully, if you don't need any adjustable features, this monitor is easy to mount with 100 x 100mm VESA mounts.
Controls and Connectivity
By now you can tell how minimalistic this monitor can go. First, it does not have a joystick for the OSD. It comes with four buttons at the bottom of the monitor. They are not as difficult to use, and the menu is not detailed so navigating the screen settings should be straightforward.
Dell D3218HN lacks features like self-adjust brightness or and ECO Mode that will help conserve power. At the back, you have only one HDMI 1.4 and VGA port. It does not have a DisplayPort or a headphone jack so no means of expanding your territories regarding bringing in a graphics card or connecting a laptop where you can share pictures to the display.
The monitor does not come calibrated which is something you'll want to indulge yourself in if you wish to get immersive images. The color accuracy comes off as incorrect so you can change it by adjusting the DeltaE, gamma, luminance, and color temperature. You will know what is ideal for your picture performance with a calibration tool.
Image Quality
Dell D3218HN strives to offer a decent display with an IPS panel that has impressive contrast ratio. Although the black uniformity won't start a conversation, we find that the brand offers as much as it can for the price. You get a full HD 1980 x 1080p screen resolution with a 16:9 aspect ratio and 178/178 degrees viewing angles.
This monitor processes lovely pictures that have some detail in them thanks to its 8-bit color depth. The blacks won't always be super dark, and the blues can be a bit over saturated, but that's it. You won't be struggling with tinted colors or faded greys on this monitor.
What's more, this monitor expresses excellent color volume with nice color gamut with most shades of colors. You'll like that it covers a vast range of sRGB and AdobeRGB such that images have more life in them. This monitor manages to cover 97% of sRGB. It is incredible knowing you won't cough out a lot of cash for it.
However, Dell D3218HN has high reflectivity compared to other 32-inch monitors. It can be an issue in dark rooms because it has a glossy finish. With peak brightness at 300 nits, the monitor views well in a brightly lit room except for the poor black uniformity.
Gaming Performance
Dell D3218HN is for the casual gamer. It neither supports FreeSync and G-Sync technologies that allow tear-free gaming nor HDR games and input sources. If you are not into competitive gaming, this monitor is down to it. First, it has an 8ms response time. It is not the most responsive nor is it the slowest which means it can handle a variety of games without turning into an annoying endeavor. What's more, it has a 60Hz refresh rate which again, will allow it to play most games that don't require high frame rates.
Dell D3218HN has a flicker-free backlight. It allows for smoother motion which is great because this monitor is running at a 60Hz refresh rate. Except for the blur that comes with the flicker-free feature, it turns out the blur won't be a bother as long games play smoothly.
Flaws of the Dell D3218HN Monitor
Although this monitor allows adjusting of the settings to your liking, you will find that it will not allow you to change the brightness. You can only choose the picture presets and that's it. Dell D3218HN does not support HDR gaming, and it does not have any inbuilt speakers. It also does not come with the HDMI cable.
Conclusion
Overall, this is a very responsive gaming monitor which manages to keep the input lag low. This way, it can game casually and bring life to its games. Its picture performance speaks of a monitor that is content with giving only the features that matter for the price. You will find it is also ideal for office work and a little of media because it limits ergonomic adjustments. Even though it is a big monitor, multitasking on it is still a problem.
Originally posted 2021-01-19 16:29:04.